What it Takes to Successfully Respond to 988 and Crisis Center Calls
by Core Solutions on September 5, 2023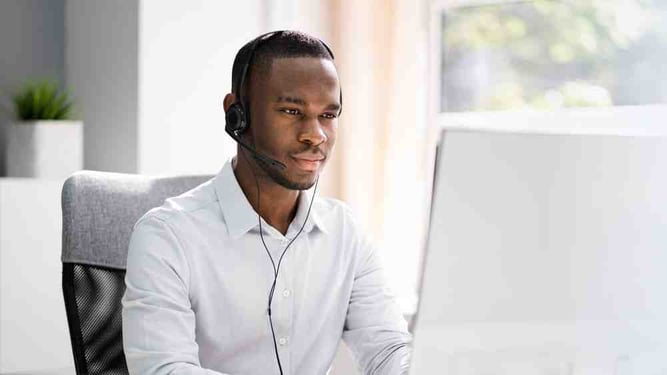 In the wake of the 988 Lifeline rollout, there's been a lot of progressive movement in crisis response.
More advocates than ever are speaking out about the importance of mental health, people now have a simple, three-digit number to dial (or text) anytime they're in need, and the government has provided funding to help with these efforts.
None of this would be possible without the dedication and support of thousands of care professionals, starting with call center staff.
It takes highly trained, compassionate people to act as the first line of response in crisis call center environments. These individuals need specialized skills and qualities to succeed in their roles, and technological upgrades can help them meet national guidelines and expectations – as well as improve daily operations.
Aligning with SAMHSA's operational expectations
To better understand the high standards that call operators in a crisis center must meet, it's helpful to review the Substance Abuse and Mental Health Services Administration (SAMHSA)'s minimum expectations. These are not the only elements that may be present within a crisis system, but they should always exist.
Key components of a regional crisis call center are that it:
Operates 24/7/365
Is staffed by clinicians overseeing clinical triage and competent staff
Answers every call or coordinates overflow coverage with an acceptable resource
Assesses suicide risk according to National Suicide Prevention Lifeline (NSPL) standards, as well as danger to others
Coordinates connections to crisis mobile teams
Connects individuals to facility-based care through warm hand-offs and coordination of transportation as needed
The goal is to prevent crises from escalating and promote recovery for people who are going through challenges. For more info about SAMHSA's core elements and principles, visit this blog post, "Enable Effective Crisis Management with a Complete System of Care."
Outlining the training and skills needed for call center staff
Working within a crisis system is a demanding job, but it's also incredibly rewarding. Oftentimes, the professionals within the call center are the first point of contact for a struggling community member, making them an invaluable resource.
Crisis call centers have different training protocols; those offering 988 mental health support must offer basic training on safety assessment procedures, working with third-party callers, and protocols for handling callers at imminent risk for harm to self or others. In addition to undergoing professional tutelage, staff can also cultivate these seven important skills to do well in their roles:
Calm demeanor:

Callers are reaching out during an extremely challenging time in their lives, and it's important for crisis center staff to remain calm as they work to defuse the situation.

Patience:

When receiving a call, the path ahead is not exactly straightforward, and no two calls may require the same approach. Call center staff will have to be patient, particularly when dealing with individuals who are reluctant to share any information.

Compassion and empathy:

People are calling in crisis because they want to be heard, and it's critical that those answering their calls offer compassion to the person in need.

Boundaries and self-care practices:

Because the work can be emotionally taxing, staff can benefit from implementing boundaries (so they aren't carrying the stress of others) and taking care of themselves in their daily lives.

Active listening:

Focused listening is essential to uncover why someone is calling and what mental and emotional state they're in, as well as hints about what may help that individual recover.

Cultural sensitivity:

Callers hail from all types of backgrounds, and staff should be sensitive to differences between groups so they don't alienate anyone or make them feel unsupported.

Understanding of any relevant technical tools:

Just as staff should be trained in appropriate care and response protocols, they'll need to be up to date with any tech tools the call center uses to streamline workflows.
A combination of these skills and training can enable call center professionals to provide effective, long-term support for 988 mental health emergencies and establish the first steps of crisis management plans for people who need help.
It's worth noting that no one operates in a vacuum. Every call center employee can benefit from the assistance of tools that streamline operations, assist with caller assessment, and provide immediate access to critical information and additional support.
Supporting crisis management plans with technology
When time is of the essence – as it is in a behavioral or mental health emergency – technology can help make sure nothing falls through the cracks.
For example, knowing that important tasks are automated frees up staff to focus on providing compassionate, 1:1 care. Core's Cx360 platform is configurable, allowing users to optimize workflows for their unique situations and ensure proper handoff every time.
Because it's built specifically for behavioral health, Cx360 contains a host of features that make life easier for call center professionals. Specifically, triage features help call center workers meet risk assessment standards from the National Suicide Prevention Lifeline (NSPL). These guidelines require crisis center staff to ask a minimum of three prompt questions about suicidal desires and related thoughts, and if any of the answers are in the affirmative, follow through with a full suicide risk assessment in line with NSPL's guidance.
With Cx360, the caller's answers are recorded and a patient risk score is calculated, resulting in a reliable way for crisis center staff to assess whether the caller is at current risk of suicide. If the answer is "yes," Cx360 then allows call centers to coordinate connections to crisis mobile teams or available care facilities.
Cx360 streamlines the entire crisis center workflow
If you're interested in learning more about how the Cx360 platform works, reach out to schedule a demo. Seeing Cx360 in action provides a front-row glimpse into why providers like Penfield Children's Center and Vinfen trust Cx360 to improve workflows, increase revenue, and alleviate staff burden.
No Comments Yet
Let us know what you think