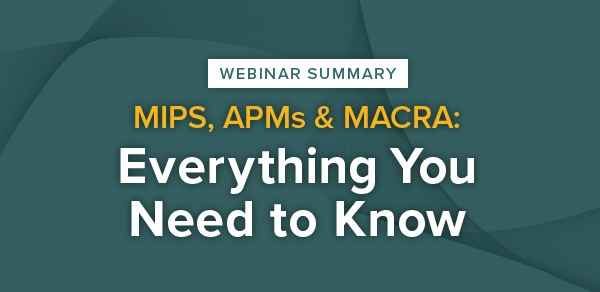 During our latest webinar with Open Minds, "MIPS and APMs and MACRA…Oh My!," we discussed how President Obama's recently signed Medicare Access and CHIP Reauthorization Act of 2015 (MACRA) will affect healthcare agencies and how Electronic Health Records (EHRs) can help prepare organizations for MACRA implementation. Additionally, we discussed the Merit-Based Incentive Payment System (MIPS) and Alternative Payment Models (APMs) to convey how these Medicare payment changes will help transform the flawed previous payment structure by providing a new framework for quality care.
How MACRA Will Affect Your Healthcare Agency or Practice
To convey how MACRA will affect your healthcare agency or practice, we conducted a live poll during the webinar to gauge how many participants currently receive funding from the Medicare Meaningful Use program: 25% reported that they receive funding; 57% said no; and 18% reported to be unsure.
For organizations receiving Medicare funding, the impact of MACRA will be high and planning for the changes should be an immediate priority. For those participating in the Medicare EHR Incentive program, MACRA will cause operational adjustments. For organizations that are not yet receiving Medicare funding, now is the time to strategically gauge the impacts that the payment reform will have.
Some of the largest impacts MACRA will have on the healthcare system include eliminating the sustainable growth rate formula that has proven no longer effective, setting the stage for MIPS and APMs which are still within the legislative process and forcing the U.S. to better understand and manage costs. To accomplish the latter, MIPS will help link fee-for-service payments to quality and value by 2018 and provide incentives for participation in APMs. As such, organizations whose service and revenue are tied to quality or value may want to prepare for the shifts by integrating an EHR.
Merit-Based Incentive Payment System (MIPS) and Alternative Payment Models (APMs)
Both quality payment programs, MIPS and APMs, will be rolled out in phases to give healthcare organizations time to set processes in place and to make it an easier transition on the providers:
Phase 1 (2015 – 2019): Repeals SGR statute and implements a Physician Fee Schedule increase
Phase 2 (2019 – 2025): Begins new payment mechanisms through MIPS and APMs
Phase 3 (2026+): All incentives stop; provider fees increase by 0.25% for MIPS and .75% for APM
APMs provide new ways to pay healthcare providers for the care they give Medicare beneficiaries
From 2019-2024, pay some participating health care providers a lump-sum incentive payments
Increase transparency of physician-focused payment models
Starting in 2026, offer some participating health care providers higher annual payments
MIPS is a new program that combines parts of the Physician Quality Reporting System (PQRS), the Value Modifier (VM or Value-based Payment Modifier) and the Medicare EHR incentive program into one single program, reducing the administration burden of reporting through multiple systems.
MIPS will fully takeover in 2019, starting in years one and two with physicians, PAs, NPs, clinical nurse specialists and certified registered nurse anesthetists. In year three and beyond, MIPS will broaden to include physical or occupational therapists, speech-language pathologists, audiologists, nurse midwives, clinical social workers, clinical psychologists and dietitians. MIPS performance categories include:
Quality (50% of Overall MIPS Score): Clinicians choose six measures to report to CMS that best reflect their practice. One of these measures must be an outcome or a high-value measure and one must be a crosscutting measure. Clinicians can also choose to report a specialty measure set.
Advancing Care Information (25% of Overall MIPS Score): Clinicians will report key measures of interoperability and information exchange. Clinicians are rewarded for their performance on measures that matter most to them.
Clinicians Practicing Improvement Activities (15% of Overall MIPS Score): Clinicians can choose the activities best suited for their practice; the rule proposes over 90 activities from which to choose. Clinicians participating in medical homes earn "full credit" in this category, and those participating in Advanced APMs will earn at least half credit.
Cost (10% of Overall MIPS Score): CMS will calculate these measures based on claims and availability of sufficient volume. Clinicians do not need to report anything.
How Your EHR Can Help Prepare You for MACRA Implementation
To report all of the data required through MIPS, organizations will need an EHR platform into their organization. A robust EHR platform will offer the flexibility to respond to rapidly changing requirements, as well as provide workflow flexibility. This functionality will shift the thinking of healthcare organizations from a claims-based mindset to one that is outcomes oriented.
Of course, technology itself is not the biggest challenge that organizations will face during this transition. Instead, it is the preparation needed to ready an organization for the processes and culture that comes with health IT. To cultivate a culture of change and acceptance of health IT, leaders need to encourage staff, ranging from office administrators to front-line clinicians, to see the mutual benefit of being standards- and data-driven through internal reporting and analytics that come from a robust EHR.