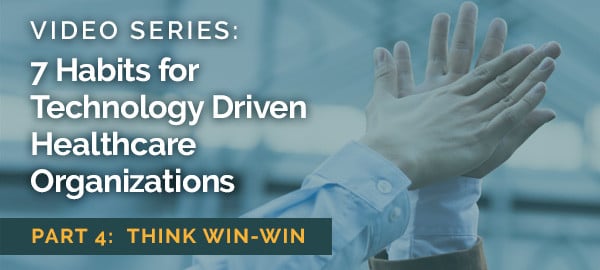 This article is part 4 of a 7-part series derived from '7 Habits for Technology Driven Healthcare Organizations' – a presentation led by Ravi Ganesan, President of Core Solutions, at the 2015 Open Minds Technology & Informatics Institute.
As told by Stephen Covey, the concept of win-win is "a frame of mind and heart that constantly seeks mutual benefit in all human interactions." This principle is especially applicable to healthcare organizations looking to cultivate a culture of change and acceptance of health IT. A paradigm currently exists between a person's willingness to invest time and effort into tangible things versus other people, and the prominence of this pattern is stifling technology adoption and progression in many health and human services organizations. To swing this paradigm's pendulum towards a culture of human investment that will help others to embrace health IT, consider these three proven concepts.
Emotional Bank Account
An emotional bank account is an account of trust rather than money. This metaphor describes how health IT leaders can make "deposits" into their teams' bank accounts by doing something good, such as keeping commitments, clarifying expectations or attending to the little things. These actions build an account of trust that helps team members become more willing to embrace the progressive health IT concepts you suggest. When "withdrawals" from the account are made by mishaps or mistakes, trust levels are jeopardized, making continuous deposits critical for creating a successful culture of change.
Win-Win Techniques
Think about someone in your organization who is completely adverse to change. This individual likely needs you to make extra deposits into their emotional bank account and invest additional time into them through win-win strategies. One win-win approach is to see the problem from the other's point of view. When you see things differently, the things that you see change and so may your method. Another option is to identify key issues and concerns. By investing time to listen and offer specific solutions to this individual, you begin to level the playing field and increase his or her chances of embracing change. Lastly, be willing to compromise by considering the ways that health IT interacts with your clinical or financial stakeholders. This analysis may uncover a different root of their concern that should be addressed first.
Download the worksheet below to take a few moments and evaluate on a scale of one-to-five (five being the highest) how your stakeholders perceive healthcare technology.
Relationship Assessments
As you set out to apply win-win strategies, consider the state of your relationships with health IT, clinical, financial, operations, consumers, and vendor stakeholders, to determine which strategy will have the greatest impact. It's particularly important to pay mind and invest time into the relationship your organization has with its EHR vendor. Many organizations spend a large amount of time choosing and integrating their EHRs, yet invest very little time into the provider relationship after the system is up and running. Leverage your EHR partner for change management best practices and health IT acceptance support. This knowledge is critical to fostering a healthy culture change and the right EHR partner will want to share it with you.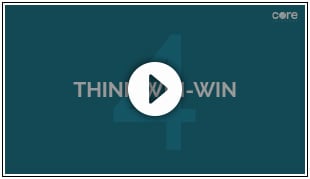 For more information, watch the full video here.