Top Five Challenges and Opportunities for I/DD Client Care in 2021
by Core Solutions on October 5, 2021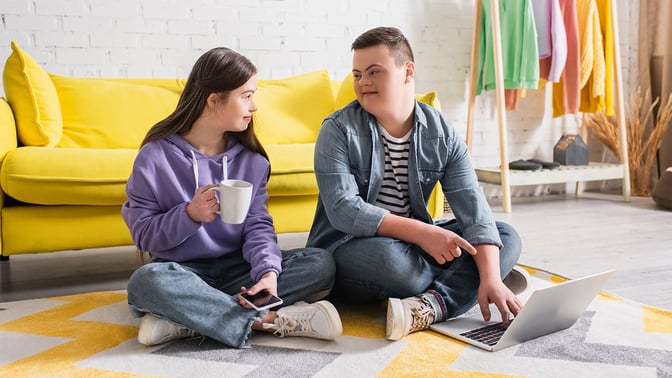 Due to the pandemic, intellectual and developmental disabilities (I/DD) providers have faced additional quality-of-care difficulties. As a result, providers have less direct in-person access to individuals in the I/DD population, which has complicated the essentials of I/DD client care.
However, due to an unprecedented rate of innovation — in some ways triggered by the pandemic — I/DD providers are in a unique position to unlock a potential never seen before. Find out the top five challenges and the flipsides for I/DD providers as the industry enters the recovery period.
Industry challenge 1: Increased complexity of diagnosis and treatment
For the 30-55% of people with I/DD who also have behavioral health conditions, diagnosis and treatment can be difficult. These complex diagnoses can include PTSD-based trauma-related disorders and anxiety, obsessive-compulsive disorder, depression, and schizophrenia. There are wide differences in how clients with I/DD communicate.
Trying to identify behavior changes from one client to the next adds to this complexity. There may be a need to assess genetic or neurologic conditions, which complicates how providers address an accurate diagnosis and determine the best course of treatment. Furthermore, having individuals describe symptoms, alongside providers' difficulties in performing examinations, frustrates diagnosis and treatment for I/DD client care.
The flipside: Resources, guidelines and breakthroughs for evolving practices
Practices are benefitting from a broad array of studies, refined diagnoses, improved intake procedures and integrated care teams to breach the challenges for diagnoses and treatment. New and invigorating approaches include:
Awareness: Educate everyone on the client's team. This includes explaining how to recognize behavioral health conditions in this population, as well as reducing the stigma and secrecy surrounding these complex cases.
Access and quality of care: Interoperability is fast becoming an essential pillar in I/DD client diagnosis. The ability to effectively exchange information within the team allows for life-changing treatment pathways driven by evidence-based practices across the cycle of care. This requires an industry-specific technology that centralizes care coordination for I/DD client care.
Industry challenge 2: Reduced direct contact with I/DD individuals and communities
The 7.38 million Americans with I/DD have faced a unique set of challenges during the pandemic and the rise of the Delta variant:
People with I/DD are more likely to be exposed and suffer poor health outcomes.
These populations tend to live either in congregate settings or with aging family members (also a high-risk group).
75% lost crucial services during the pandemic, exacerbating inequities in care facilities and resulting in reduced direct contact between client and provider.
The flipside: The rise of positive, individualized whole-person care
Whole-person care improves the quality of life for I/DD clients and encompasses:
Teams of care including primary care physicians and I/DD providers.
Practices focused on the individual.
Reduced stigma and secrecy of diagnoses.
Improved family and client participation in treatment and monitoring.
Data-driven solutions.
A centralized electronic health record (EHR).
Industry challenge 3: Pandemic-related community and communication barriers with I/DD client care
For those with I/DD, access to a spectrum of services and support is continually disrupted due to a lack of resources and stretched caregivers. For example, more than 70% of individuals have lost a form of their health services. This complicates the existing challenges people with I/DD have in describing their problems and in a provider's ability to directly assess and access their care.
The flipside: Improved education and accessibility among staff in community-based practices
Individuals in this population have experienced isolation, further complicating their treatment and diagnoses. However, a bright light has emerged out from community-based health practices. New data shows that clients with I/DD who used community-based services are no more likely than the general population to contract COVID-19.
Industry challenge 4: Reduced access to resources due to economic slowdown
The COVID-19 pandemic is the worst public health crisis in living memory. It has forced governments and corporate entities into strict containment and severe policies that still impact access to human and operational resources, resulting in a global recession and complex challenges for both practices and the individuals they serve.
The flipside: The rise of communities, NGOs and associations, working on the same goals
Out from this worldwide devastation surfaced individuals, neighboring service providers and organizations to focus on the urgent needs of the imperiled I/DD population. Community-based support answered this dramatic call by finding solutions to providers' immediate challenges, such as providing for the embattled direct support workforce. They also focused on innovation through technology to create efficient and effective solutions for I/DD client care.
Industry challenge 5: Demand for integration with all forms of care for I/DD individuals
The lack of integrated care coordination for all providers serving I/DD clients has inhibited accurate diagnoses and best treatment courses. In order to keep up with demand, providers had to modernize quickly in order to keep up with a more connected, remote world. Records, reports and analytics are no longer confined to the practice - they have to be accessed by specialists in different locations, which requires staff training and changes to daily operations.
The flipside: EHR/EMR technology that enables care coordination and interoperability
Technology-driven care coordination unifies processes for all providers on the team to enable the best solutions for I/DD client care. Technology-driven care coordination has allowed families to see results through coordinated information and has resulted in a more efficient staff. They make the best use of existing time and resources and improve communication to enhance productivity through integrated software. Interoperability through a centralized system of care and coordination elevates what I/DD providers have long sought to accomplish for their clients.
Core Solutions Inc.'s EHR builds bridges for I/DD client care coordination. Core helps I/DD providers integrate EHR to smooth out the transition. Contact Core today to discuss how the Cx360 platform can change everything for your centralized care coordination.
No Comments Yet
Let us know what you think