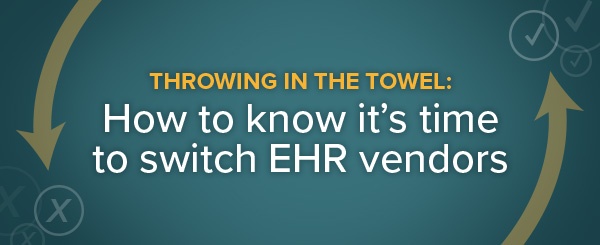 Is your healthcare organization in a committed relationship with an electronic health record (EHR) vendor? With more than 600 EHR vendors in the marketplace – how can your organization be sure that it has partnered with the best possible vendor? Chances are, if you've sought information on other vendors or the process to switch vendors – a strategic choice that takes a lot of manpower, time and dollars – then there is likely something missing. Perhaps you've noticed that your organization's priorities have once again fallen by your vendor's wayside or that there are constant glitches and fixes to your enterprise-wide software.
For satisfied organizations, the right EHR provider is often regarded as not just a vendor, but as an invested business partner that is organization-centric, product-focused and offers superior technology, processes and people. To join the roster of satisfied healthcare organizations who are flourishing in today's technology-driven and mandated marketplace with the help of an invested EHR partner, ask yourself these key questions to determine if it's time to throw in the towel and switch EHR vendors.
Organizational Needs

Am I receiving superior customer care, consistency and commitment?
Have we improved our enterprise-wide efficiencies with our current EHR?
Are my service request calls being returned in a timely manner?
Can my vendor show me a two year product plan or strategy?
Is my vendor's staff consistent and growing, or is there rapid turnover?
Do I maintain easy access to my vendor's leadership team?
Is my vendor strategically involved and helping with my organizational changes?
Has billing and/or cash flow been negatively impacted for too long a period of time?



Product Needs

Do system updates consistently cause issues for other areas of the software?
Are there frequent quick fixes to enterprise-wide software emergencies?
Is my current EHR equipped to handle future changes and mandates?
Is my vendor ready to commit to meeting MU3 and CCBHC criteria?
Is it easy to integrate my EHR with other products?
Is my current EHR expensive to maintain due to additional fees for license renewals or add-ons?
Are my electronic documents easily submitted in a timely manner?
Is all of the functionality that I previewed in my demo being realized in my product?
Does the length of my renewal contract meet my organization's needs?
Implementation Needs

Was my implementation timeline met or is there still no completion date in sight?
Does my vendor have specific experience with my organization's specialty area(s)?
Has my vendor shared other client success stories with my team?
Has this checklist motivated you to explore your options? Consider our Guide: Key Questions to Ask Your Prospective EHR Vendor when undertaking the EHR vetting process. For more information contact us!