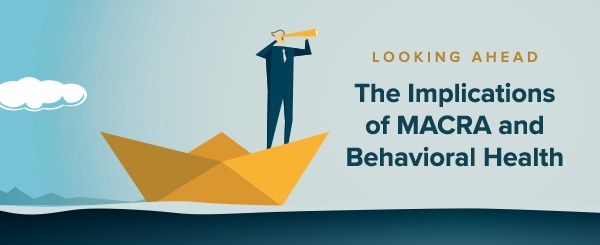 As behavioral health organizations and healthcare agencies look ahead to the next five to ten years, the Medicare Access and CHIP Reauthorization Act of 2015 (MACRA) will present the biggest change – and opportunity, to traditional payment models that the healthcare landscape has experienced in decades.
The largest impacts of MACRA include eliminating the sustainable growth rate formula that has proven no longer effective, setting the stage for MIPS and APMs which are still within the legislative process and forcing the U.S. to better understand and manage costs. The other major opportunity of MACRA includes laying the framework for rewarding quality care. In fact, goals for 2016 include 50% of payments going through alternative payment methods and 85% of fee-for-service payments being tied to quality metrics. Finally, MACRA also presents a positive opportunity to combine quality reporting.
For BH organizations specifically, MACRA presents three major – and fairly early stage, implications:
Clinical Practice Improvement
As the Federal Government continues to recognize BH as an increasingly important and prominent sector, MACRA has set forth new and specific incentives for organizations paid through Medicare. Goals set forth by MACRA include achieving health equality for underserved populations such as people with BH conditions and disabilities, as well as integrating primary care with BH providers.


Accountable Care Organizations (ACOs) Encouraged Use of BH
Currently, 70% of ACOs maintain some component of BH, but only 14% of that number is actually doing anything about it. So while these organizations are still in the early stages of leveraging the full capabilities that BH has to offer, MACRA sets the stage for ACOs to capitalize on this opportunity.


Importance of Patient Centered Medical Homes (PCMHs)
This implication promotes coordinated care, offering a lot of potential to streamline processes. According to CMS, 2015 demonstrated improvement in anti-depression medication management over the results in 2014. Furthermore, in the area of hospitalization for mental illness from a study conducted over the last five years, there is not enough being done. So while PCMHs are still in the very early stages with minimal metrics, MACRA feels this will be a huge opportunity in the future.