With the shifting financing and service delivery landscape in the behavioral health field, how can organizations keep their competitive edge? How do they keep up with the new demands for customer-centric, high-quality care in a pay-for-value world?
Rapid changes in the science of treatment, reimbursement models, and policy have made it a necessity for management teams of health and human services organizations to make significant changes in a relatively short period of time.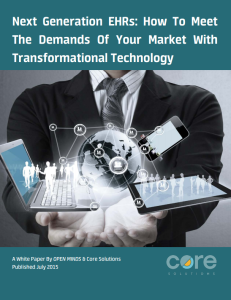 Technology (along with access to capital and workforce management) is a critical element for these organizations to respond to and remain 'best in class' in their markets. The issue for most is that the technology functionality that was "cutting edge" just a decade or more ago is no longer adequate to support the high-performing health and human service organizations in the current market. For most behavioral health organizations in particular, their electronic health record (EHR) systems are the backbone of their service line operations. But, their current EHR systems are not providing key transformational functionality needed in the new service delivery landscape — clinical management support across the continuum of care, enterprise management capability, interoperability, enhanced configurability, and end user ease of use. The strategic problem for most is the functionality of these first generation EHR systems is not robust enough for organizations to remain efficient, effective, and competitive.
To meet the new functional needs of behavioral health organizations, there is now a group of innovative EHRs entering the market either as transformed legacy systems or entirely new players in the market. These EHRs have been developed by companies that are investing the time and money to either enhance current systems to include the transformational functionality needed in today's market or build that new transformational functionality from the ground up.
These transformational EHRs are creating new market options for management teams of behavioral health organizations. The question for these management teams is what is the specific functionality they need to support their evolution to 'next generation' players in the field — and how do they determine whether they need to replace their current EHR to support their competitive advantage? This white paper examines those issues — the shifts in the field, the effects on competitive advantage, and the transformational functional elements that are available in second-generation EHRs.