5 Signs Your Behavioral Health EHR isn't Keeping Pace with Peers
by Core Solutions on June 2, 2022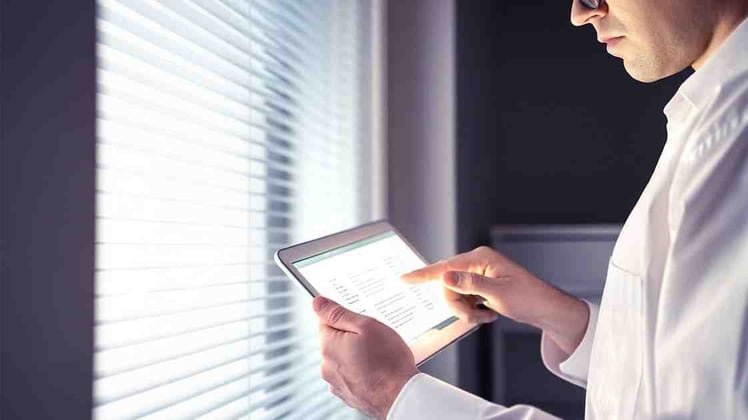 Electronic Health Record (EHR) systems are crucial for the success of any behavioral health organization. All too often, however, providers lack the appropriate technology.
Identify technology competencies that will best serve your behavioral health organization with our guide, The Ultimate Guide to Behavioral Health EHR Selection.
Behavioral health EHR adoption as a whole lags behind others. Much of this has been attributed to differences in incentives. Although the Health Information Technology for Economic and Clinical Health Act of 2009 (HITECH) provided billions of dollars in subsidies for medical providers to purchase and maintain EHRs, the act did not make incentive payments available for mental health and SUD providers. According to the most recent Centers for Disease Control and Prevention (CDC) nationwide EHR survey, behavioral health providers and psychiatrists have the lowest EHR adoption rate at 61%, compared with urology (94%), general surgery (94%), orthopedic surgery (93%), general/family practice (93%) and dermatology (70%).
Even those practices with EHRs often settle for solutions that aren't designed well for caring for behavioral health patient populations. Broad systems may automate and improve reporting of many day-to-day functions, but differences in how the platforms do—or more often don't—support the natural workflows of care providers in behavioral health impacts the organization's level of efficiency, effectiveness and overall staff satisfaction.
Increasingly, EHR design is playing a larger role in an organization's market competitiveness. Going from a "good enough" general EHR to a more efficient and more customizable platform that is specific to behavioral health enables an organization to save steps in process, better focus clinician time where most needed and makes it easier for users to obtain the insights needed to improve clinical effectiveness and profitability.
5 Signs Your Behavioral Health EHR isn't Keeping Pace with Peers
How can you tell if your current EHR approach is lagging behind those of your peers? Consider the following five warning signs.
1. Understanding a Patient's Risk Level Is Difficult or Requires Too Many Steps
One of the biggest indicators of how well your EHR is meeting your organization's needs can be seen in triage capabilities.
Given today's behavioral health access challenges, prioritizing patients by risk acuity has never been more important. The right EHR for mental health providers makes it easy to Identify individuals who need care the most with of-the-moment risk scores. An EHR built for behavioral health will allow users to define risk factors and customize rules for managing patients according to characteristics such as past suicide attempts or hospitalizations in the past 30 days. Faster risk screening and routing allows the behavioral health care provider to triage care where most needed.
An EHR designed around behavioral health workflows, as opposed to a general EHR, also will make it easier to then tie these screening activities to related assessments within the records and continue the information through with treatment planning, monitoring and ongoing progress notes.
Behavioral health providers also can benefit from tools that will take clinical data and provide diagnostic support, integrate appropriate clinical guidelines, prompt with meaningful reminders and aid reporting with prepopulating reference information. An EHR built specifically for behavioral health will do this most effectively with preferred clinician workflows.
2. Telehealth Visits Require Leaving the Platform
According to a report published by Fortune Business Insights, the behavioral health care market is predicted to grow from $77.62 billion in 2021 to $99.40 billion in 2028. With this rise in demand for services continuing and the behavioral health workforce tightening, organizations are having to find practical ways to be able to serve more patients.
Telehealth and mobile access are playing a key role in making staff available to a wider geographic footprint on a more flexible schedule. But not all telehealth visits work the same.
If your EHR requires the clinician to move between different systems, it introduces complexity and creates a source of needless delay. Modern EHRs for mental health providers allow the clinician to instantly conduct a telehealth appointment without leaving the platform. This seamlessness is a better use of time and results in less frustration for the provider. Given the frequency of remote appointments and anticipated telehealth growth, differences in this experience will become even more meaningful to clinician satisfaction with the work environment.
3. Coordinating Information Across Care Settings Remains a Challenge
Mental health and behavioral care practitioners work by coordinating with other providers; hence, sharing records and data is crucial. A patient diagnosed with a behavioral health condition often will have other co-existing health conditions. For example, someone diagnosed with an eating disorder may also be managing cardiac irregularities. In this instance, a shared understanding between the behavioral health care provider and primary care physician and/or cardiologist regarding the patient's progress in managing their symptoms will best serve the patient. Risk factors in the patient's life, such as a change in activity level, may prompt joint discussion of a medication shift or other interventions.
More than 190 million Americans, or 58% of the population, have at least one medical comorbidity, while more than 30 million have three or more. Further, it is expected that people living with multiple comorbidities will more than double by 2050. As care continues to become more integrated, those providers whose data is protected––but not siloed ––in a behavioral health EHR or substance use EHR will be best positioned for success.
4. Understanding Impact of Payment Change Remains Elusive
The business environment for behavioral health care is becoming increasingly complex. Value-based care arrangements are creating greater need for understanding and more accurately and efficiently documenting the link between intervention and outcome.
EHRs with evidence-based prompts specific to behavioral health that allow for automated documentation without disrupting the clinician's natural workflows will be a differentiator in keeping up with this shift in care delivery and payment. Also integral to these efforts will be the ability to recognize differences among subsets of patient populations receiving interventions to identify measurement-based best practices. Dashboards need to be intuitive and reflect custom metrics most important to the organization and user, whether administrator or clinician.
Contract modeling also becomes more complex—and requires a more sophisticated EHR designed for behavioral health—to effectively project total costs of care and the organization's ability to hit targets based on the unique characteristics of its patient populations and clinical performance trends.
5. Your Clinician Is Working Around Your EHR—Not the Other Way Around
Lastly, a commonly overlooked EHR aspect impacting an organization's competitiveness is user experience.
Spend some time observing EHR use at your organization. Does the home screen look the same for every user, regardless of role? Does the clinician need to pause to find a screening tool? If the clinician steps away for a moment to attend to an urgent care need, do they need a few moments to pick up where they last were?
These are all small "tells" that the behavioral health EHR isn't aligned well around user workflows.
When researchers with the Office of the National Coordinator for Health Information Technology interviewed 43 behavioral health clinicians and health IT administrators to analyze EHR adoption barriers and facilitators, the importance of EHR usability was clear. Of the top seven barriers, three are connected to user experience: computer literacy, EHR system complexity, and steep learning curve.
At a time when behavioral health staffing and recruiting is under significant strain, organizations need to be thinking of ways to reduce stressors in the workplace. Seeking EHRs with an intuitive user experience and that make use of AI and advanced analytics to minimize steps in process can ease the burden on staff.
Always assess your EHR by its ability to support clinicians in practicing how they want to practice. The right EHR will work nimbly with the clinician's preferred behavioral health workflows, auto-populating and bringing just-in-time information, rules-based best practices and insights to the forefront as needed, so they support the natural way a clinician works. Dashboards should allow for easy customizations, so they reflect the metrics most relevant for the clinician's patient population and priorities. Training with the behavioral health EHR or substance use EHR should be role-based and intuitive, not taxing.
Those organizations able to work with workflow templates designed specifically with behavioral healthcare in mind while supporting easy customizations will find it easier to accommodate the many needs of diverse users in a way that best reflects the true nature of how the clinician prefers to work.
Your Behavioral Health EHR
Core Solutions Cx360 EHR platform is built specifically for behavioral health. To learn more about ways Core Solutions can address your current behavioral health clinical and business challenges, view a demo today.
No Comments Yet
Let us know what you think