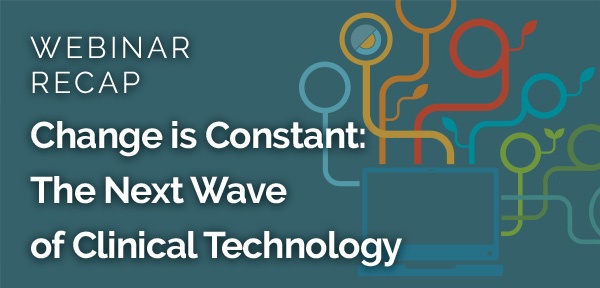 During our latest webinar, "Change is Constant: The Next Wave of Clinical Technology," we discussed the importance of change management when planning to drastically shift the current state of your operation. Specifically, EHR selection and implementation is dependent on process changes within an organization. To successfully integrate an EHR, your organization must create an effective environment for change. Learn about the importance of change management, renowned change models and the necessary steps to take from start-to-finish.
The Importance of Change Management
One of the most misunderstood components of EHR selection and implementation is the amount of change that is involved. To do it right, your organization not only needs to learn how to use the new system, but has to change the way they approach the care that is provided. Building change management principles and practices into the project plan from the very start will set the tone for how well your team embraces the changes that come alongside a successful implementation.
Renowned Change Models
John Kotter, an Emeritus Professor of Leadership from Emeritus, at Harvard Business School has written extensively on change management and his model involves three key components:
Creating a climate for change
To create a climate for change, your organization needs to establish a sense of urgency by identifying areas for improvement and communicating why the enhancements need to be implemented now. It's also important to build a guiding coalition of champions who will spearhead the necessary team building activities. Finally, you will need to create a vision for the future state. By relaying what life will be like for your staff and patients, your organization will be encouraged to embrace the change.
Engaging and enabling the organization for change
Communicate your organization's vision in an innovative way to empower others to take action towards accomplishing the future state. Ensure that your staff has a clear understanding of the authority you are giving them to help carry this out, and be sure to delegate leadership roles for training scheduling and workflow redesign. To sustain motivation, plan for and create short-term wins by recognizing high levels of achievement and promoting good ideas.
Implementing and sustaining the changes
To ensure progress, use your internal champions to focus on problem areas and promote solutions using new technology. Train, retrain and offer technical assistance to rapidly address problems, while also celebrating success as often as possible. Most importantly, don't give up.
Resistance to Change
It's natural for human-beings to resist change due to the uncertainty it causes. People also love to feel as if they have a stake, so it's important to engage them in the process by helping with vendor selection, creating RFP criteria or even the future vision. By finding your champions early-on, you can use them to address how people are feeling rather than what they are directly saying. Finally, results speak volumes, so celebrate all successes and be inclusive.
Download the Materials: