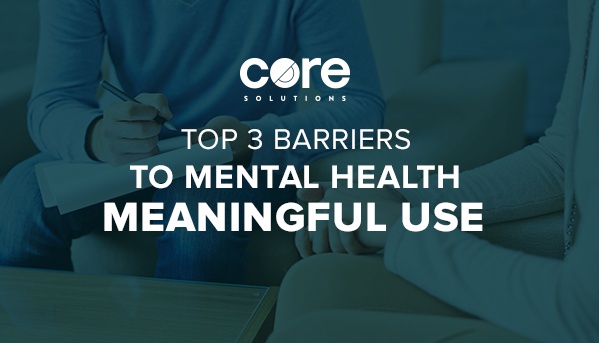 The adoption of health information exchanges (HIEs) are on the rise for most healthcare providers, improving service and outcomes for patients and efficiencies for staff. Yet for behavioral health (BH) providers, challenges with federal incentive programs, patient record protection laws and interoperability with primary care continue to impede its full adoption.
As with any new mandate that will significantly disrupt the status quo, challenges are expected to arise. However, as our governing body continues to embrace the maturity continuum, in which healthcare organizations evolve from what was once a dependent, then independent mindset – to a state of interdependence, these barriers will lift and give way to a fully coordinated care continuum.
Take a closer look at the top three barriers to mental health meaningful use:
Lack of Financial Incentives
Some behavioral health organizations are not part of the Centers for Medicare & Medicaid Services' (CMS) Meaningful Use program. Therefore, they are unable to earn incentive payments for demonstrating "meaningful use" of health information technology such as the adoption and use of electronic health records (EHRs). Without federal financial help, these behavioral health professionals are challenged with the high costs of transitioning to digital records.

This is among the biggest reasons why the behavioral health field is lagging in EHR adoption. However, grant opportunities are available for BH organizations each year through government programs and agencies such as the Substance Abuse and Mental Health Services Association (SAMHSA). Click here to learn about SAMHSA's current opportunities.
Stringent Data Protection Laws
Patient records of behavioral health providers are highly sensitive, with mandates to abide by state laws that may be more stringent than the required Federal HIPAA provisions. Behavioral health records may include information on additionally protected areas, like HIV status, substance use, or more complex family data.

Thus, added stipulations complicate the comprehensive data protection rules and not all EHRs are effectively designed to rise above these challenges. Specifically, most HIEs lack the ability to transmit just a subset of information from a patient's health record, and therefore are unable to exchange information throughout the care continuum. Providers and payers face the challenge of accessing and integrating data from many clinical, operational, administrative, and patient-derived sources. This access is essential for improving care, designing cost-effective programs, and managing financial risk
Complexities With Interoperability
While Core Solutions' Cx360 Integrated Behavioral Health EHR Platform is designed to achieve care coordination between BH and health and human services, the proliferation of BH EHRs that communicate seamlessly with primary care is limited. A study1 published in the Journal of the American Board of Family Medicine suggests that because "behavioral health and primary care differ in their language, classifications, codes, data reporting requirements and regulations," EHRs could also "pose barriers" to optimal primary/behavioral care integration."

Interested in learning how Cx360 Integrated Behavioral Health EHR Platform could benefit your organization's care coordination? Click here to learn the features and benefits.
Source
1 Healthcare IT News, Behavioral health data 'burdens EHRs', 2015