Implementing an electronic health record (EHR) solution can be a challenging experience for many behavioral health provider organizations. Once implementation is underway, it is vital that health care provider organizations evaluate whether their EHR partner and solution are meeting all their needs or if the system is costing the organization valuable time and money.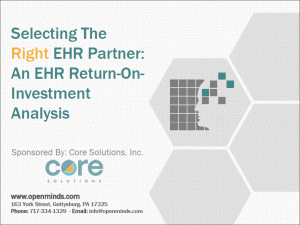 OPEN MINDS, the premier market intelligence and management support firm specializing in the sectors of the health and human service field serving consumers with chronic conditions and complex support needs, and Core Solutions, Inc. (Core), the progressive leader in integrated behavioral health electronic health record (EHR) technology, have collaborated to create this white paper and a cost estimation model for analyzing the challenges and costs associated with retaining an electronic health record system that isn't meeting the needs of a behavioral health organization.
An executive web briefing based on the white paper research was held on Thursday, July 31,2014 at 2:00 PM EDT, which was presented by Joseph Naughton-Travers, Senior Associate at OPEN MINDS. This executive web briefing reviewed the major findings of the research, as well as provided a preview of a case study using the cost estimate model.
This white paper and 90-minute online event provided attendees with:
An overview of the phases involved in a typical EHR implementation
Some common challenges experienced during the implementation process
The costs associated with retaining an EHR system that isn't meeting your organization's needs
Download the Whitepaper (PDF)
Download the PowerPoint Presentation Slides (PDF)
Download the Webinar Presentation Recording (WMV)