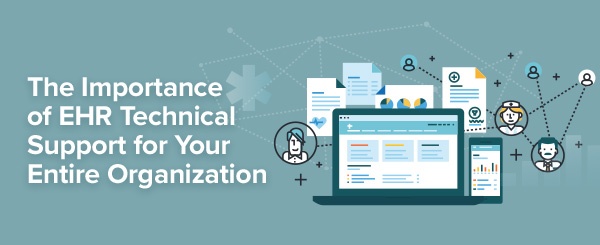 IT personnel are likely to be the first line of defense when electronic health record (EHR) issues arise, but oftentimes they are not equipped with the information needed to solve users' issues. When a single department "owns" your EHR system, this can leave IT scrambling to connect with multiple departments to resolve EHR issues. If your IT department needs to consistently reach out to other departments in order to aid intake staff, executives, or case managers who cannot access reports and other important information, then the department is not getting the direct EHR support they need. The latest EHR system can better connect with all of your internal teams in order to effectively approach and combat issues.
One way of finding out if your organization is set up for success is to assess your current method of EHR management and make sure relevant teams are provided with the latest in EHR technology to back their efforts. This means searching for a modern EHR vendor that acts as a strategic and invested partner that can provide your entire team with:
Interconnectivity and Always-On Support
It should be easy to reach your EHR vendor's leadership and support teams and expect timely responses to your queries. Outstanding customer service can mean the difference between an easily resolved complication and a tiresome game of phone tag for the departments involved. A truly effective EHR partner also meshes with an organization in ways that bring about open dialogue in order to strategically improve partnerships. When both parties are expected to contribute to the growth of a partnership, a healthier, community-like involvement becomes the norm and organizational changes, further data complexities, and adapting to new regulations are actions taken on together.
Meaningful Use and Complete Training
Implementing a new EHR platform and working with an entirely new vendor team shouldn't be intimidating tasks. You won't get the most out of your EHR if it simplifies some tasks but further complicates others; it needs to be able to maximize productivity as well as integrate with existing products your organization utilizes. Modern EHRs and value-based systems also encourage organizations to allow access to data for staff members from various departments, not just a single "owner." An easy-to-use platform makes this possible because it can provide the workflow visibility and simple access to electronic documents that ease sophisticated processes managed by many. Final product demonstrations and expert training should supplement the transition to a newer, user-centered EHR.
Cutting Edge Technology and Continuous Improvement
If your team is taking advantage of the latest EHR technology, the platform they work with is equipped to handle future healthcare changes and mandates and any and all data requirements. Such a technology should be flexible and managed by the vendor in a way that allows for continuous improvement. Although it's a contemporary platform, this EHR should also come at a reasonable price that is practical to maintain. The entire agency can see that the system they are working with does in fact eliminate redundancies and automate important organizational processes by measuring against performance metrics established early on in the process by both the agency and the vendor.
Examine your organization's current EHR experience to determine whether the product directly supports and benefits all departments. A smart EHR that can incorporate the information preferences of all relevant employees will serve as the core foundation for management success and deliver the best return on investment.
Contact Core Solutions today for a free ROI analysis and more information on the benefits of a true EHR partner.