The Critical Importance of Choosing a System With The Right EHR Architecture
by Core Solutions on August 6, 2015
How to select an EHR architecture that supports your growth and avoids hidden costs
Your Electronic Health Record (EHR) software plays a profound role in your organization's future success. All of your technologies—from clinical and financial tools, to apps and point-of-care solutions—build on the EHR for source content, making it the foundation to your organization's digital strategy. Without a sound architecture, your ability to adapt to future technology changes is compromised, and increased costs associated with replacing ill-architected systems that do not support organizational requirements as you grow, become more of a reality. Since your behavioral health EHR architecture is critical to your daily operations and your ability to scale for growth, choosing one that maximizes flexibility, scalability and security makes smart business sense.
What is EHR system architecture?
Software architecture is the foundation of the EHR system. It comprises functionality, reliability, usability, efficiency, maintainability and portability. A stable, well thought-out architecture yields more intuitive usability, greater scalability, and a more secure and flexible operating environment. On the other hand, a faulty architecture increases the odds of failed implementations when the time comes to add on additional systems or apps, resulting in a poor customer experience. In some cases, it can lead to entire system replacements, sometimes within just a few years of implementation. While software quality, security and performance can be evident early on in EHR system adoption, many other aspects of software architecture are hidden, surfacing well after implementation. This makes evaluating architectural stability during product evaluation and selection particularly difficult.
Why does EHR software architecture matter?
To stay abreast of changing regulations and information technology advancements, behavioral health organizations will be required to implement a number of technologies to remain competitive in the marketplace over the next decade. Your EHR is the foundation for these new technologies—the single source of truth for behavioral health information—and has direct implications on clinicians' point-of-care decision-making. Choosing the right architecture ensures scalability of your entire system, while preserving your ability to provide exceptional behavioral health outcomes.
EHR is Your Health Information Foundation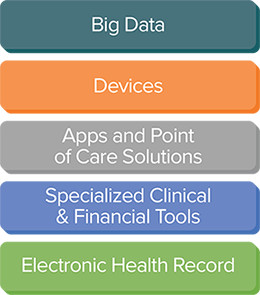 As the foundation of your information system, a sound EHR architecture creates the scalable platform required to streamline administrative tasks, make sound clinical decisions and generate robust reports.
Meeting long-term requirements of scalability and meaningful use
All healthcare organizations will soon be required to use certified EHRs. As most behavioral healthcare organizations provide services that go beyond traditional physical and behavioral health, the architecture of your system will determine if your EHR can scale to the comprehensive needs of your total offering, while still meeting requirements for meaningful use. Most behavioral health organizations need the capabilities of a certified EHR system that can also meet the needs of non-traditional programs such as housing and job coaching.
Software designed to access behavioral health records (which is often a small subset of total records) differs from software designed to process thousands of records for billing, reporting or other complex processes. More complex processing requires careful architectural considerations to ensure that operations do not impact performance. Once in place, this kind of comprehensive architecture can act as a platform for growth and scale—with the breadth and depth to easily serve future needs.
Lastly, the right software architecture can shift your behavioral health organization away from one that relies on the vendor to make updates, to a customer-centric model where you have the built-in tools to perform new software configurations in house, simply and cost-effectively.
EHR architecture evaluation checklist
Your EHR architecture is critical to your daily operations and your ability to scale for growth. Choose an EHR with an architecture that maximizes flexibility, scalability and security, by using the following checklist to guide discussions with vendors and to facilitate decision-making:
Review architecture diagrams provided by the vendor
Request performance statistics
Ensure security is scalable across multiple programs and locations
Inquire about the vendor's methodology for preserving customer-created work during product updates
Verify that the vendor maintains single source code for all customers
Ensure true SaaS multi-tenancy versus individual instances for customers
Inquire about the age of the technology stack
Discuss the availability of a preferred customer-centric (vs. vendor-centric) model
Discuss the balance of architecture flexibility with the ability to perform software upgrades
Talk with Core Solutions today to learn more about out-of-the-box functionality that meets the unique needs of your behavioral health organization while supporting adoption among your clinicians.
About Core Solutions
Core Solutions, Inc. (Core) is a progressive leader in providing Electronic Health Records software to government, non-profit and commercial entities in the health and human services industry. Core is a mission driven organization with the goal of improving the lives of individuals and families receiving behavioral health services through better technology. Our strategy for achieving this mission is through a "Better EHR Experience."
Learn more at www.coresolutionsinc.com.