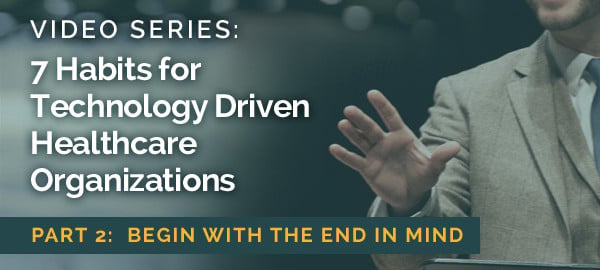 This article is part 2 of a 7 part series derived from '7 Habits for Technology Driven Healthcare Organizations' – a presentation led by Ravi Ganesan, President of Core Solutions, at the 2015 Open Minds Technology & Informatics Institute.
Is your healthcare organization striving to be tech-driven or aiming to lead the way in health IT innovation? If this is the case, then that vision needs to be instilled in your organization from the start – in other words, begin with the end in mind. Transforming a healthcare organization into a tech-driven business requires buy-in from all angles. Therefore, it's mission critical that leaders underscore technology's role in aiding progressive factors such as containing costs, improving access and supporting data-driven decisions. Providing top-down education to management, clinicians and even patients about the importance of tech-backed paradigm shifts will help drive acceptance of the HIT movement.
Set your healthcare organization up for tech-driven success with these two critical activities:
Ensure Your Mission Statement Reflects Technology
Does your organization's mission statement reflect the importance of technology and innovation? Rapid advancements to HIT are leading many organizations to revise their mission statements to give proper credit to the role of technology. Incorporating HIT into your mission statement informs that technology is a leading focus of your organization – and to be a successful team member or patient, you must also be willing to embrace the advancements technology has to offer.Below are two examples of well-crafted mission statement that begin with the end in mind:

Cleveland Clinic: We welcome change, encourage invention and continually seek better, more efficient ways to achieve our goals.

Cedars- Sinai: Provide superior capabilities, facilities and technology for the full continuum of healthcare services.

Evaluate and Analyze the Shifting Paradigm
The healthcare landscape is shifting to become the "business of healthcare" and while executives often attend thought leading events to stay updated on this paradigm – how do middle management and frontline clinicians get educated? It's up to C-level personnel to share knowledge about technology's growing role to unite the staff and enable them to embrace the shift. Moreover, CFOs have a responsibility to analyze the impact of moving from a fee-for-service or grant model to value-based reimbursements. CMS implemented this shift in 2013, and in 2014, half of the participating hospitals received less money than they would have previously. To survive in the new landscape, it's critical that your organization land in the opposite half – and a good place to start is to analyze what your future will look like and how technology will pave the way.
Download the worksheet below and take a few moments to think about what key challenges you anticipate over the next 5 years.
For more information, watch the full video here.