NatCon 2019 Recap: Keynote, Brand Reveal & Announcements
by Core Solutions on May 2, 2019
Core Solutions headed South to attend the 2019 National Council for Behavioral Health's NatCon'19, the nation's premier behavioral health (BH) conference, in Nashville, Tennessee. This year's event gathered more than 5,000 attendees who celebrated the National Council's 50th anniversary and achievements in the behavioral health industry.
Here's a quick recap of our favorite moments and event highlights.
Linda Rosenberg's Keynote Speech
Linda Rosenberg, president and CEO of The National Council for Behavioral Health, kicked off the event with the keynote speech, underscored by the event's theme: Celebrating 50 Years of We. Rosenberg, who announced that she will be leaving the National Council for Behavioral Health in August 2019 after her 15-year tenure as president and CEO, inspired attendees with a motivating keynote address.
Her speech celebrated nationwide BH accomplishments, with bold and powerful statements such as:
"Recovery is now the expectation, not the exception."
"We stopped asking what's wrong and started asking what happened."
"We've moved integration from concept to reality."
"We can be for-profit and for-people."
"We can be high-tech and high-touch."
"We've built practical solutions to complex problems."
In contrast to these victories, Rosenberg discussed the harsh realities of mental health where there's still room for improvement. She focused on suicide prevention and gun laws, in which she pronounced suicide a public health problem that dwarfs our country's homicide problem, with statistics like:
"Preventing mass shootings would have saved 500 lives between the year's 2000-2016."
"Preventing gun suicide would have saved 319,000 people between the same period."
She urged the room full of behavioral health professionals "to be the kinds of leaders who have a bias towards action; who are deeply engaged with the world; and who continue…to make things better."
The keynote speech also announced the formation of a new joint healthcare company founded by Amazon, Berkshire Hathaway and JP Morgan, called Haven. Atul Gawande, MD, MPH, will be CEO of this organization, adding to his already-impressive resume as a surgeon, best-selling author and healthcare innovator. Haven will focus on improving access, lowering prescription costs and making insurance benefits understandable to everyone. You can read more information about Haven.
Our Revitalized Brand Identity
NatCon 2019 also served as the official platform for the reveal of Core's revitalized brand identity, making the event extra special for our team, clients and partners. The new brand centers on the real challenges of EHRs for complex care communities and features a new mission statement and visual identity.
Our new mission combines our pillars of technology and data with an understanding of, and passion for, advancing the status-quo, stating: to leverage technology and data to support provider organizations committed to improving whole person care and quality of life for all people touched by the extraordinary challenges of behavioral health and other human conditions.
The new brand is anchored in a vibrant color palette comprised of rich purples, reds and oranges, with a bold, modern and simple square logo that forms a frame, representing the changing and challenging healthcare landscape. Core's EHR solution, Cx360 is designed to evolve alongside the changes occurring in complex care communities and provider organizations.
See our new brand in the images of our NatCon booth below.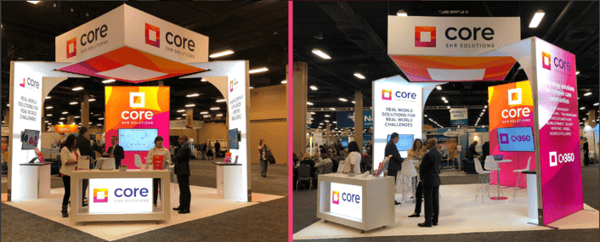 Best Wishes to Linda Rosenberg
In between Rosenberg's keynote address and our brand reveal, we were fortunate to hear from countless other speakers who informed and impressed us with their BH knowledge, foresight and passion, and we had the chance to meet and mingle with industry peers, customers and partners.
All of these opportunities, however, wouldn't have been possible without the relentless dedication that Linda Rosenberg has shown to the National Council during her 15-year tenure as president and CEO, and we want to graciously thank her for all of her contributions, accomplishments and inspiration as she prepares for leave this August 2019.
We share the sentiments of Jeff Richardson, National Council Board chair, who said, "Linda Rosenberg has taken the National Council to unimagined heights. She helped propel behavioral health to the forefront of the health care agenda and introduced a number of initiatives that improved our members' ability to provide quality, accessible mental health and addictions services. Her visionary leadership sets the tone for the Council going forward."
Our best wishes wouldn't be complete without a recount of some of Rosenberg's most notable accomplishments, which include:
Leading the National Council through extensive growth, including a rebrand
Establishing the National Council as a powerful policy and advocacy voice for behavioral health
Helping secure passage of the Mental Health Parity and Addiction Equity Act, expanding integrated behavioral and primary care services
Leading the support for the Mental Health and Addiction Treatment Excellence Act resulting in a network of Certified Community Behavioral Health Clinics
The National Council becoming a highly valued provider of technical assistance, driving organizational, clinical and workforce improvements
Increasing membership trifold to more than 2,900 organizations
Growing NatCon fourfold to become behavioral health's premier conference
Introducing Mental Health First Aid to the U.S.
Thank you, Linda Rosenberg, for all of your contributions, and for reminding us about why we're in the profession that we're in, which is to change lives.
Core's Cx360 EHR solutions, include Cx360 Enterprise, as well as pre-configured solution sets for the communities it serves, including, IDD, Behavioral Health, Substance Use, Child and Family Services, and Health Clinics. Request a demo of our leading EHR solutions today.
Source: Business Wire
Source: NatCon 2019 Opening Session
No Comments Yet
Let us know what you think