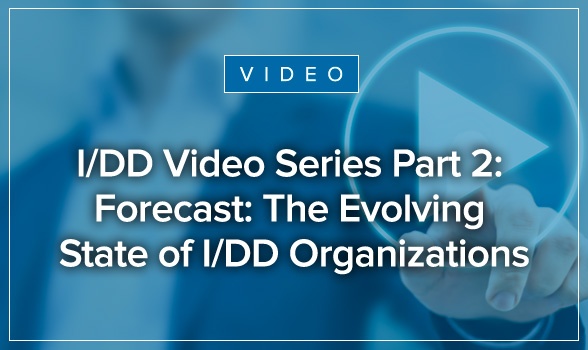 How much do you know about the current and evolving state of behavioral health (BH) and I/DD organizations? This is part two of a series focusing on the I/DD landscape and featuring footage from the presentation, "The Next Generation of Care Collaboration." Shown at the 2016 OPEN MINDS Strategy & Innovation Institute in Clearwater, Florida, this presentation was given by Core Solutions CEO Ravi Ganesan and Deloitte Consulting Senior Manager Adam Bauer.
To be successful in the growing value-based market of behavioral health and I/DD, organizations need to embrace the concept of consolidation. The fragmented industry landscape has evolved to a state of shakeout, where healthcare professionals (HCPs) are challenged with progressing alongside the industry's needs. Currently, out of 600,000 mental health professionals in the United States, 15,000 of those are providers of behavioral health. When thinking about what the market will look like in ten years, Mr. Ganesan suggests that the amount of BH providers will likely decrease from 15,000 to about 7,000.
Despite the growing need for BH treatment, consolidation is the driver behind this decrease. Consolidation will transition the market from its current state of dependence to a superior state of interdependence:
Dependence: Grant funding and narrow focus
Independence: FFS Billing, interdisciplinary services and limited governance
Interdependence: Value-based and integrated care, strong governance, HIT and data
To achieve this desired state of interdependence, where BH organizations are not siloed but rather working alongside other HCPs and fields to improve outcomes, four paradigms need to be overcome.
"We are different than physical health"
I/DD HCPs need to think outside the box, shifting from a siloed operation to working with the rest of the healthcare system to better serve clients and improve outcomes
"We are a small industry/agency/organization"
The mindset that your I/DD organization is small or agency-based needs to be expanded, understanding that regardless of size, your services are critical to the overall healthcare system.
"It is difficult to measure what we do"
The root cause of organization's currently "shaking-out" is lack of measurement. If your organization cannot adopt measurement-based outcomes, it will be impossible to provide value and sustain.
"We have great stories about our services"
For leaders in BH, becoming data-driven is at the forefront. Consider this: If your organization is comfortable with the metrics it is measuring, they are likely the wrong ones. It is the cringe-worthy data that will prompt the industry to take action – and therein lies where we need to be.
Watch the full video below to hear Ravi Ganesan explain in more depth this important concept.