How to Create a Great Digital Healthcare Experience
by Core Solutions on August 14, 2018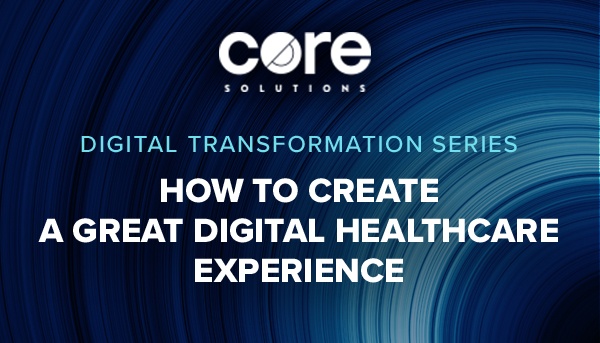 This blog is part of our Digital Transformation series inspired by key highlights from the presentation, How to Reimagine and Reset Your Organization for a Digital Transformation. Shown at Emerging Horizon, the 2017 North Carolina Council of Community Programs Conference held in Pinehurst, NC, this presentation was given by Core Solutions CEO Ravi Ganesan.
We live in a time when more people are motivated to share their experiences with brands and organizations online, detailing encounters—both positive and negative—for other consumers to consider as they go on to make their own choices. Smaller organizations will know that sometimes these online comments and reviews can reflect a company inaccurately; a narrow perspective or an incomplete picture of a more nuanced experience can have real potential to damage or shake a brand's reputation. And because the customer is always right, it's important to make an effort to resolve the situation. But when these shared experiences paint a true picture of the shortcomings of an organization, it's time to make some big improvements to better shape the experiences you offer consumers because they're something you can control.
What kind of experience would your healthcare practice offer if patient feedback directly influenced the compensation and rewarding of your team?
Healthcare practices and agencies of all kinds aren't an exception to the idea of applying continuous improvement, and one piece of the consumer journey puzzle that many still need to improve upon is the digital experience. Creating a great digital experience is essential to differentiating your healthcare organization, staying competitive, meeting real consumer needs and surviving over the long term. Try adding some of the effective tactics below to your business-building toolbox to give shape to an exceptional digital healthcare experience in four major areas: the referral and intake process, assessments and planning, service delivery and discharge and post discharge.
Referral & Intake Process
The first encounter with your organization is the referral and intake process, which should be continually refined through customer feedback whenever possible. But if you're already behind because you don't factor in digital, you can start making big improvements by incorporating online and offline tools that meet modern patients where they are—on the web or in the office, wanting quick and easy digital interactions that add up to smooth office visits. Make it a goal to add or improve at least two of these important healthcare service features to your referral and intake process:
Online chat option
Online initial documentation
Online appointment scheduling
Convenient check-in kiosks
Emails and texts

Welcoming, visit prep and educational materials
Assessments & Planning
You may be out to get a more complete picture of your patients and improve the treatment of their conditions, but sometimes patients are lost in the assessment and planning processes you administer, feeling out of the loop on how it all works. Make an effort to better explain assessments and supply digital tools for an easier transition during this stage of care. Implement these three digital tactics:
Thorough explanation of goals and structure of the assessment process
Electronic copies of assessments after visits
Recommendations for outcome tools to aid the monitoring process
Service Delivery
In online reviews, your organization will be remembered not just by the services you deliver but the way you deliver them. That's why it's important to view a visit at your office from the vantage point of an average patient and consider if and how you allow room for service options, easy documentation takeaway and regular opportunities for consumers to voice their opinions or concerns internally to help you be more proactive and productive in adjusting your service delivery. Try to provide each of these in your service delivery plan:
Multiple service options

In-person, telehealth, self-help, treatment extenders

Electronic documentation with outcomes measurement after visits
Customer feedback portal

Regular feedback review and response
Discharge & Post Discharge
Post discharge is all about promoting the long-term success of patients by helping them stay aligned on their path to recovery. Discharge is a chance to give them initial guidance when they walk out the door, but applying digital tactics to aid post discharge is another often missed opportunity to carry your beneficial services and expertise over into a patient's life for the long haul. Consider augmenting your discharge and post discharge practices with these digital tactics:
Electronic documentation and follow-up help on discharge
Alumni portal and access to treatment extenders
Ongoing email communication and education
Want more tips on how to make all things digital a more important part of your healthcare organization? View the infographic below, Taking Healthcare Advice from Amazon & Zappos, to learn what makes these retailers digital experience experts, discover five factors that shape a great digital experience and start better serving your patients today.
Creating a great digital experience starts from the inside. Make the switch from paper to digital or explore the advanced features of a new EHR with a partner like Core Solutions. Request a demo of our EHR solution below to get to know our platform and how our team is working toward a better future for healthcare organizations and their patients.