Checklist: Comparing EHR Vendors for Behavioral Health Providers
by Core Solutions on August 30, 2022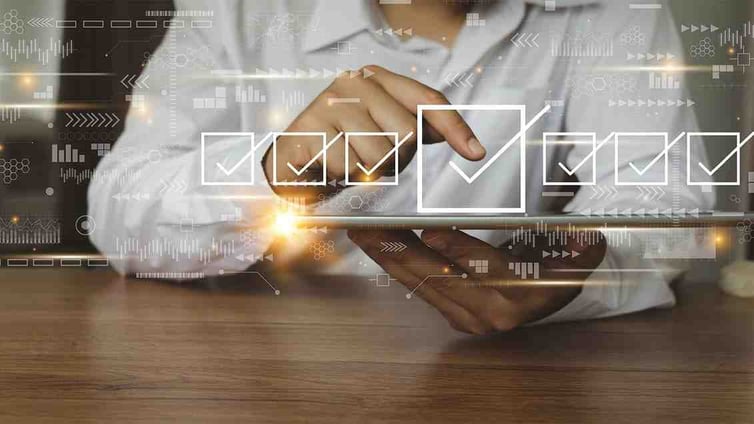 Choosing among EHR vendors can be challenging. Determining which features are nice-to-haves vs. need-to-haves and assessing the vendor's strengths can sometimes feel overwhelming.
Identify technology competencies that will best serve your behavioral health organization with our guide, The Ultimate Guide to Behavioral Health EHR Selection.
Yet this decision is one of the most important a leadership team can make. Whether you are upgrading outdated systems, moving away from paper-based systems, or streamlining and consolidating your systems, your choice of technology will determine whether you have the right functionality for your practice and its needs. These days, technology choice plays a greater role than ever in the ability to work smarter, have the insights needed to provide the best care, and secure accurate and complete payment.
In this blog, we help you think through what to look for in EHR solution providers so that you can know what questions to ask when dealing with software companies. We'll consider:
Key features to seek

Main influencers over user experience

Business support

Vendor service
With this guide, you'll have a strong foundation for knowing how to choose among options to ensure the best software for your practice.
Key "Musts" to Seek from
EHR Solution Providers
It is important that your EHR has behavioral health specialization. You want a solution that provides client management, task management, service documentation, and billing features that suit the needs of your practice.
When envisioning day-to-day use, you'll need a solution that enables smooth clinical, operational, and administrative workflows that can interface with other practice management or hospital systems.
Here are baseline features behavioral health providers should look for when comparing EHR solutions.
Workflow management specific to behavioral health

:
Management software for behavioral health organizations should offer systems to manage a complete episode of care specific to the specialty. It should be able to track treatment stages and timeframes methodically and offer the specific screening and assessment tools and timing of these tools that align with the clinician's needs for their clients. An EHR specific to behavioral health will best ensure support for the workflows specific to the industry.
Built-in access to telehealth

:
In the COVID-19 era, EHRs should support e-prescribing and built-in telehealth. With telehealth integrated into your EHR system, you can provide a seamless care experience and maximize care time by avoiding the complication of requiring care providers to switch platforms. It's also useful to seek capabilities that allow for easy connection by clients as well. Ideally, the solution should provide notifications for sessions with clickable access links that support one-step attendance.
Customizable templates to align with common roles and processes:
To ensure your EHR is the right fit for your service and your patients, look for a modular platform with pre-existing templates that can be configured if needed. For example, SOAP note templates can be created around a range of disorders, conditions, and risks to ensure that the practice's records reflect frequent interventions and the patient population that is served.
Flagging high-risk patients to prioritize individuals who need care most urgently is vital as behavioral health continues to face access challenges. The best practice management software for therapists in behavioral health organizations will support the use of Patient Risk Scores. Risk scoring can enable you to define key risk factors appropriate to your population, such as:
Past suicide attempts & suicide risk

Hospitalizations in the past 30 days

Comorbidities



User Experience Considerations When Comparing EHR Vendors
In addition to behavioral health-specific features, EHR vendors will also differ considerably in user experience. One of the most overlooked aspects when comparing solutions is adequately testing the technology with various users from your organization.
Traditionally, many new users within behavioral health settings have found EHRs to be complicated, confusing, and intimidating. Yet clinician support can make or break realizing the full value of a technology investment.
It is vital to compare behavioral health software companies by UI experience, role-based training opportunities, and ongoing support. The ideal is finding a vendor who can even go beyond product demos and support a trial of the technology.
When comparing options, practice leaders should look at the following aspects in terms of ease of use.
Configurable set-ups that support easy updating and scaling:
Technology should be easy to configure with rules-based options so that staff can keep up with changing needs. Areas to consider are how easily the technology can work with changes in contract terms, expansion of the business into new locations, shifts in clinical guidance, and other factors that continually change in the life of an organization. When assessing ease of configuration, consider the degree of difficulty in changing the system's workflows, business rules and alerts, and the designs of forms and reports.
Dashboards should give users a clear snapshot of which operations are most important to them, including caseloads, schedules, appointments, and tasks. Client charts and records should be easy to access and update. A clinical process tracking view should show workflows in real-time, allowing administrators and staff to easily see which steps are completed, pending, or behind schedule. This visibility is necessary to reinforce accountability and a shared understanding of the progress.
Flexible treatment planning and scheduling:
A simple and intuitive scheduling tool should make it easy to schedule, sequence, and rearrange appointments. This capability is especially useful in relation to telehealth, where many organizations need a system that offers coordinated scheduling across time zones.
Point-of-care decision support:
When clinicians can easily access actionable data and decision support without disrupting their preferred workflow, they can provide more effective care. A tool with AI capabilities, advanced logic, and an embedded rules engine can help practices align with evidence-based best practices without disrupting the clinician's preferred way of working—a must as value-based payment continues to take hold. The best practice management software for therapists at behavioral health organizations will make it easy to provide and adjust point-of-care decision support over time.
Direct and secure provider-patient communications:
EHR solutions should allow providers to interact with patients and easily share targeted educational materials with them. For example, a clinician might send screenings or assessments to patients prior to an appointment or as part of determining the progress of treatment plans. The ability to communicate directly and securely this way can help providers focus patient time on care rather than data gathering and will empower the patient to play an active role in their own care.
Organizations should be able to share information across care settings as well as across providers while maintaining compliance. Look for EHR solution providers and care coordination technologies that offer this functionality to support an integrated care approach. Patients will receive more efficient and coordinated care if their full team of care providers can see and collaborate on the treatment plan.
Managing Business Performance
A modern EHR should support financial operations as well. Technology features that can help practice financial leadership guard against revenue loss and improve practice profitability include the following.
Revenue cycle optimization

:
Look for EHR solution providers that offer detailed billing support with codes tailored to your practice and specialty and rules-based claims generation. Dashboards should make it easy for users to track and trend denials, missing pre-authorizations, and collections performance.
Robust reporting capabilities:
Practice managers should have access to real-time business intelligence and data analytics. A good EHR will allow users to define and customize reports and restrict report viewing to only those staff that need to view them.
Target costing analytics:
Identifying and evaluating actual costs is vital for determining potential risks under various contract scenarios and ensuring profitability. The platform you select should have the capability to share data with your general ledger, so you can begin to identify your total cost of care for your services.
Consolidated payer records:
Look for solutions that can electronically maintain and track third-party financial agreements (including contact information, contracted rates, and copays). With funding sources and insurance information on hand, practice managers can improve the efficiency of billing, claim generation, and validation. 
Support Differences Among
Behavioral Health Software Companies
When comparing EHR solution providers, look for those that can provide top-notch technical support. This support should include options such as the following.
Round-the-clock customer service support as part of a strong, strategic partnership
A partner relationship vs. a vendor relationship

The training focused on meaningful use to maximize productivity and integration with existing systems

Role-based training to ensure users are comfortable with the platform and can easily access data and documentation and intuitively follow workflows

A good rating by KLAS, an independent software review organization
In addition, your platform should be flexible enough to handle future healthcare changes and allow for continuous improvement by the vendor.
When it comes to EHR software, you need a vendor who shares your priorities.
When it comes to choosing the best EHR and practice management software for behavioral health organizations, it all comes down to this: Can your solution help you to deliver better client care and run your practice efficiently and effectively?
To guarantee the best return on your investment, you need a smart EHR that can remove the complexity of delivering behavioral health without compromising on care.
To learn about Behavioral Health EHR capabilities with the 360x from Core Solution, schedule a demo.
No Comments Yet
Let us know what you think