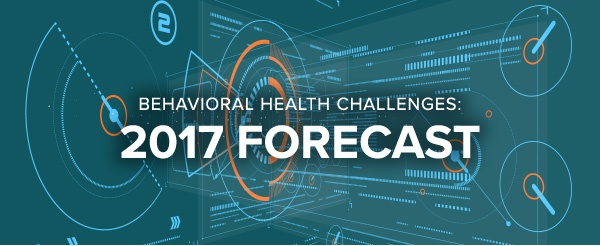 Behavioral health and clinical services have experienced many changes in the past few years with regard to new regulations, payment reforms and care delivery requirements. As we enter into 2017, these organizations will continue to experience intermediating and progressive changes. These types of changes mean that while the core services and products will stay the same, the activities that monetize and enable the delivery of these offerings will evolve. These activities will produce a host of challenges for BH organizations – challenges that if unaddressed, can be considered threats.
For example, technology requirements are rapidly expanding to include not just mobile and telehealth, but care coordination, billing under prospective payment systems and even quality metrics. These requirements will contribute to 30%-50% of businesses moving away from the traditional office settings to outside the '4 walls' within the next five years – and organizations need to either keep up or dissolve.
Here's a look at the top 4 threats facing BH organizations within the next year:
Complex Regulations
The Medicare Access and CHIP Reauthorization Act of 2015 (MACRA) has set forth new and specific incentives for organizations paid through Medicare. As a fundamental shift for the way BH organizations operate, the first thing MACRA did was put an end to the sustainable growth rate formula. Instead, the Act set forth new goals such as achieving health equality for underserved populations, setting up a framework for rewarding quality care and combining quality reporting. Considering this, 90% of fee-for-service will be moving to quality service over the next ten years.
Payer Relationships
One of the largest impacts MACRA will have on the healthcare system include eliminating the sustainable growth rate formula that has proven no longer effective, setting the stage for MIPS and APMs which are still within the legislative process and forcing the U.S. to better understand and manage costs. To accomplish the latter, MIPS will help link fee-for-service payments to quality and value by 2018 and provide incentives for participation in APMs. Both quality payment programs, MIPS and APMs, will be rolled out in phases to give healthcare organizations an easier transition:

Phase 1 (2015 – 2019): Repeal SGR statute and implement a Physician Fee Schedule increase
Phase 2 (2019 – 2025): Begin new payment mechanisms through MIPS and APMs
Phase 3 (2026+): All incentives stop; provider fees increase by 0.25% for MIPS and .75% for APM

Primary Care Integration
The most popular primary care integration model is collocated medical services. As more and more organizations move to this model, it's important to recognize that without enhanced coordination, it cannot be effective – meaning just because some organizations now have physicians in place, it doesn't mean their job is done or that progress has necessarily been made. Instead, effective collocated medical services provide care managers with access to the right technology systems, recognizing that, when done right, this model can vastly improve quality and reduce costs.
Educated Consumers
Another growing challenge facing BH organizations and HCPs is educated consumers demanding more. Before a doctor's appointment with a new HCP, 70% of individuals check information on the Internet first. This statistic reinforces the phenomenon of consumers being more prepared than ever when selecting their care provider and care plan, begetting the need for clinicians to be ready to respond to a smarter consumer. The proliferation of technology is also providing consumers with more options that are readily rated and ranked online and on social media. As a result, BH organizations must focus on the consumer experience as a whole – from ensuring convenient appointments, booking processes, fast service and delivery and ultimately, improved patient outcomes.
The effects of new regulations, reforms and requirements have all led to unique challenges in the fields of behavioral health and clinical services. However, keeping these top threats in mind will provide BH organizations the perspective needed to better monetize and deliver their services and products for the start of the new year.