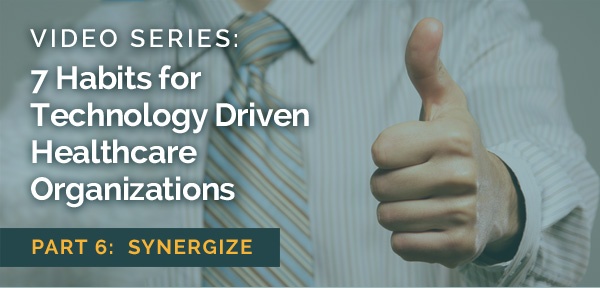 This article is part 6 of a 7-part series derived from '7 Habits for Technology Driven Healthcare Organizations' – a presentation led by Ravi Ganesan, President of Core Solutions, at the 2015 Open Minds Technology & Informatics Institute.
Synergize is the habit of creative cooperation and the key to success for tech-driven health and human services organizations. Over the next five years, both strategic partnerships and health IT will relate directly to the success of these organizations – especially as competition with new forces like Federally Qualified Health Centers increase. To combat these challenges and remain at the forefront of opportunity and technology, healthcare organizations will need to rely on partnerships with hospitals and health systems, primary care networks, ACOs and other behavioral health organizations.
Consider these principles for creating synergy with health IT and strategic partners to ensure future success.
4 Principles for Health IT Synergy
EHR: Single Source of Truth
Over the next 3 to 5 years, organizations must focus on utilizing their EHR for actionable intelligence that is gleaned from a high level synthesis of financial and clinical data.
Common User Experience
To provide staff, users and consumers with a positive and common user experience for your organization's health IT resources, ensure the applications, website and tools are consistent.
Interoperability Across System & Devices
Interoperability among health IT systems is a must – and moreover, information exchange across devices such as blood pressure machines and mood tracking devices, is critical.
Data-Driven Decisions
In today's value-based world, creating actionable intelligence is among the most important principles for health IT synergy. Traditional reporting processes are time-consuming and can impact quality metrics, resulting in an organization not getting paid for their services.
Creating Synergistic Teams and Partnerships
Building team synergy is a matter of permeating the goals of an organization to management, middle-management and finally to the frontline staff. Oftentimes, a disconnect occurs when aligning management with the frontline staff, so it's important that middle-management focus on: interacting, committing to purpose, providing clear and consistent communication, practicing active listening and building trust. This will help create an environment where everyone is working to accomplish common objectives.
For tech-driven organizations, it's important to strategically and synergistically align with EHR vendors for future success. Because most healthcare organizations do not have their own product, the EHR vendor serves as a critical resource in driving progression and outcomes. Moreover, it's important to expand the EHR vendor relationship beyond transaction to a true health IT partner.