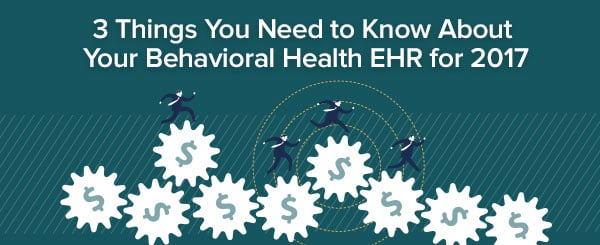 Not all EHRs are flexible enough to adapt to future changes. If your organization is still functioning on first-generation EHR technology, you will likely miss out on the capabilities you'll need to handle the challenges of 2017 and beyond. A "Goldilocks" principle of sorts can be applied to two typical EHR Vendor scenarios: either they are too big to care about how future complexities will affect your specific organizational needs, or too small to tackle them. The benefits of a true EHR partner and a second generation EHR Platform are endless, but there are three big things your vendor should be able to address for you to consider it "just right" for the year ahead.
1. Your revenue cycle will be turned upside down. A value-based payments (VBP) system is quickly becoming the preferred way of managing and delivering care for many organizations. Optimizing fee-for-service billing systems as well as newer fee-for-value capabilities requires a great deal of flexibility from your EHR. These are entirely separate ways of gathering data and executing and monitoring billing operations. A flexible EHR would need to establish a centralized revenue cycle to contain data and simplify all the processes involved. You need to know whether your EHR is capable of operating on both fronts, or until transition to the VBP framework is completed.
2 The true cost of your first-generation EHR system could put you in a bad Return on Investment (ROI) position. Calculate your EHR's added value by determining whether your current EHR:
Helps you reach the industry standard billing collection rate of >95%
Enables real productivity and eliminates unnecessary overhead
Avoids unexpected costs such as billing rejections, expensive system customizations, etc.
Consider your clients' ROI as well by confirming that your EHR ultimately improves the client experience throughout all interactions. An EHR should successfully provide enterprise scheduling, seamless service and delivery processes and client access to ensure the quality of your organizational outcomes.
3. Meeting the data and reporting needs of your state and payer constituents is the new normal. Newer and more complex regulations have laid out incentives and payment plans that require enhanced and frequent reporting. This calls for a second-generation EHR Platform that has the flexibility to adapt to incoming changes and ease the workflows associated with them. Be aware of how your EHR product will help you pull the reports necessary for the following programs:
Merit-Based Incentive Payment System (MIPS)

Physician Quality Reporting System (PQRS)
Value Modifier (VM or Value-based Payment Modifier)
Medicare EHR incentive program

Alternative Payment Models (APMs)
Payer relationships, primary care integration, well-educated consumers and more will all affect and further complicate the relationship your BH organization has with its EHR platform. After coming to terms with the above realities, agencies must first directly address areas of potential gaps and conflict between your organization's processes, your EHR system, and your specific needs in order to be best prepared for 2017 and be sure that your EHR Platform is "Just Right."